Table of Contents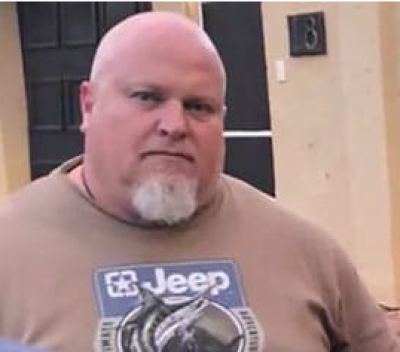 Clynton Hugh Marks
Previous Schemes
Bio
Clynton Hugh Marks, previous winner of Mr Johannesburg, born 13 Feb 1970, is currently the Head of Referral Program and Members at MTI and also on the Board of Directors and the only Executive Director apart from Johann Steynberg5). While this was noted at the 2020 MTI strategic conference, Clyntons name is not included as a director in the company information available on CIPC.co.za .
Clynton married Cheri Ward on 19 Feb 2019.
As a career Ponzi scheme enthusiast, he was involved in several MLM Ponzi schemes prior to joining MTI including, My Daily Choice, BTC Global - 6), Syntek7), MMM - 8), Crypto World Evolution, and Thrive International9).
He is also listed as a director of numerous other companies per the CIPC records, including:
ENERGY HUBSPOT,
DOTCOM TRADING 839,
RAINBOW ADVERTISING,
RAINBOW BUSINESS GROWTH NETWORK
and HARDCORE DESIGN
Its currently unknown if any of these business are actively trading, or if they are merely shelf companies.
The information contained in the recent MTI leaks showed that Clynton owns 2 of the top earning accounts at MTI, this despite MTI company policy supposedly banning members from having more than one account.
Quite absurdly, Johann Stenberg, MTI's CEO seemingly joined MTI underneath Clynton's income stream. This has lead people to believe that Clynton might be the mastermind and/or architect running MTI and that Johann is merely set up as the image of the company, or perhaps the "fall guy".
Considering that Clynton is the only Executive Director10) apart from Johann, the extreme profits he made from the MTI scam and the fact that Johann mysteriously disappeared in December 2020, this is a theory that is gaining popularity.
Current Whereabouts
Clynton's former home is believed to be in Kloofendal, Roodepoort, based in Johannesburg, South Africa. He recently (September 2020) moved into a R11.5 million Rand mansion based in Monteith Estate, Durban North, KwaZulu-Natal, South Africa.
The purchase of this home is surrounded with controversy. According to publically available information, the house was purchased on 18/7/2020 for an amount of R11.5m and registered on 6/10/2020. The present owner of this home is a shelf company, Uprobuz (Pty) Ltd bought from the Shelf Company Warehouse that was registered on 22/05/2020. The director of this company, is a Zimbabwean national, Ngqabutho Don Nkomo
Don Nkomo's recorded address in Roodepoort is same address Clynton Hugh Marks used for one of the business registered in his name, namely Energy Hubspot (Pty) Ltd. Its believed Don Nkomo is simply a director in a company owned by Clynton Hugh Marks. This can be seen as an attempt from the Marks family to hide & protect their assets from authorities in a pending lifestyle audit & asset seizure.
Trouble With The Law
It is reported that Clynton's Durban mansion was raided by the FSCA on 26 October 2020, after the FSCA obtained a high court order to seize documents, cellphones and computers related to MTI. This was confirmed by a leaked voicenote his wife Cheri shared (presumably in a WhatsApp group).
MTI Founders pool
According to the recent MTI hack, Clynton is part of the MTI founders pool. He has at lease 2 accounts, although its against MTI policy to have more than 1 account. Up to date his total scheme income is R61 664 107.40 + R13 073 747.26 respectively from his 2 accounts.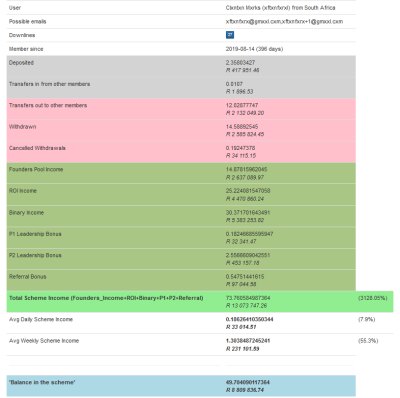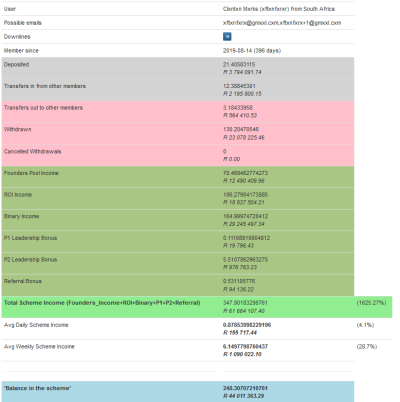 References & Links
clyntonmarks.txt · Last modified: 2021/01/31 04:02 by mlmbillionaireforreals
---