Table of Contents
Cheri Ward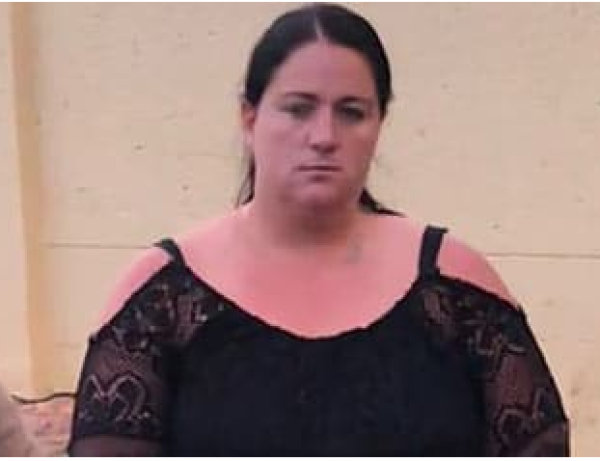 Previous Schemes
Biography
Cheri Ward, born on 7 February 1982 is currently the Head Of Communications and Marketing for MTI.
She describes herself as having a decade's worth of experience as a corporate trainer and presenter. Cheri has proven herself to be a serial Ponzi scheme addict, some naming her the "The Queen of Ponzi Schemes" and "The Ponzi Princess". As a career ponzi scheme enthusiast she has been behind and involved in many online schemes such as BTC Global, Mirror Trading International, My Daily Choice, Syntek, MMM and Copy Profit Success Global.
Her history and involvement in current and past schemes is well documented online, with several websites and blogs containing in-depth information and details about her past scams. Cheri also has her own blog, where she tries (and miserably fails) to indemnify herself against any wrongdoing after the momentous crash of BTC Global which saw investors lose more thanUSD$80m.
Cheri has previously used the moniker Dubalion in MDC and BTC Global.
Cheri used the moniker @cashcowmmm in her MMM days4).
Cheri has come across as charismatic, well spoken (in English and Afrikaans), bombastic, narcissistic and very short tempered. Despite being the Head Of Communications and Marketing for MTI she has proven to take criticism very badly, frequently swearing at people on public forums if she disagrees with their opinion.
Steven Twain / Cheri Ward
There is a belief shared that Cheri might have invented Steven Twain either by herself or with assistance from Andrew Caw as a fictitious person running the BTC Global Scam. She did so to remove any personal responsibility and to protect herself, seemingly fully aware that BTC Global was a scam from one day with impending collapse. This is well documented in a detailed post on behindmlm.com.
Cheri, one of the top recruiters of BTC Global, was one of only very few people to ever have direct contact with Steven Twain. Up to this day, no one ever met, or saw Steven Twain. After the collapse of BTC Global, Steven Twain seemingly disappeared from the face of the earth. No public record or social media accounts exists for Steven Twain, apart from 2 online photos.
---
Johann Steynberg / Cheri Ward
Although speculation is rife concerning the beginning of MTI, in the following screenshot it can be seen that Cheri was in from the beginning.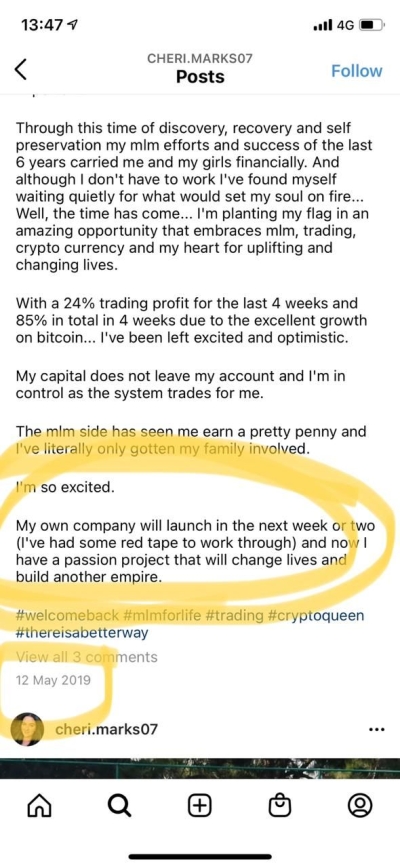 Although it could be established that Johann Steynberg is a real person, due to the similarities, his disappearance has been compared to the disappearance of Steven Twain, with the common denominator of Cheri Ward. It's impossible to establish if Cheri knew about Johann's pending disappearance.
In a leaked Whatsapp voice note Cheri denies living in a mansion and driving expensive cars even though she posted pictures on her social media account proving this as fact. Cheri tries to play the victim and denies knowing MTI is a scam, blaming Johann singlehandedly for MTI's collapse. Cheri implemented the exact same exit strategy with the demise of BTC Global where she blamed Steven Twain for the collapse.
---
Andrew Caw and Cheri Ward
Andrew Caw and Cheri have been close since at least MDC days.
---
Personal Details and Current Whereabouts
It is believed that Cheri's maiden name is Ward. As with most schemes, Cheri got most of her extended family involved, undoubtedly, to also to share the ill gotten gains.
Cheri mentions on her personal blog that she has 2 brothers, Vince and Charlie. Charles "Charlie" Ward currently occupies - Head of Strategy Implementation and Vincent "Vince" Ward - Head of International Expansion.
Cheri was married to Leonard Gray - Head of Legal Department. Her public Facebook profile indicates that her last name was Gray at some point in time.
Her husband Clynton Hugh Marks currently occupies the Head of Referral Program and Members position of MTI and is also an Executive member of the Board. Lastly Cheri's (current/Ex) brother n law Coenie Rademan was the only other listed director as per the CIPC records of MTI.
Cheri mentions in her public blog that "when the girls and I lost everything, I had to explain to them (5 and 4 at the time) that their dad was not coming back" As this was prior to her current marriage with Clynton Marks (married: 19 Feb 2019)5), it's understood that her 2 daughters are from a previous relationship. It is not known if this is Leonard Gray, as communications from MTI show that Leonard is part of the current MTI team.
Her former home is believed to be in Kloofendal, Roodepoort, based in Johannesburg, South Africa and she recently (September 2020) moved into a R11.5 million Rand mansion based in Monteith Estate, Durban North, KwaZulu-Natal, South Africa.
The purchase of this home is surrounded with controversy. According to publically available information, the house was purchased on 18/7/2020 for an amount of R11.5m and registered on 6/10/2020. The present owner of this home is a shelf company, Uprobuz (Pty) Ltd bought from the Shelf Company Warehouse that was registered on 22/05/2020. The director of this company, is a Zimbabwean national, Ngqabutho Don Nkomo
Don Nkomo's recorded address in Roodepoort is same address Clynton Hugh Marks used for one of the business registered in his name, namely Energy Hubspot (Pty) Ltd. Its believed Don Nkomo is a director in a company owned by Clynton Hugh Marks. This can be seen as an attempt from the Marks family to hide & protect their assets from authorities in a pending lifestyle audit & asset seizure.
Cheri lives a very public life, shamelessly promoting schemes and scams. In a public introspection Facebook post Cheri reflected about the past few years, and commented that "She has gone legal". While it can be left open for interpretation, this admission of guilt certainly implies that what she was involved with prior to MTI was not legal. It is believed that Cheri is supporting her lavish lifestyle with the proceeds from various schemes. Quite ironically Cheri's personal Facebook slogan is: "I live to make a difference, to leave a legacy that my children will be proud of…"
---
Trouble With the Law
It is reported that Cheri's Durban mansion was raided by the FSCA on 26 October 2020, after the FSCA obtained a high court order to seize documents, cellphones and computers related to MTI. This was confirmed by a leaked voicenote Cheri shared (presumably in a WhatsApp group). Cheri is heard laughing, making jokes and downplaying the seriousness of the situation. She claims that the raid was done because the FSCA is jealous of MTI.
Cheri claims that following the raids, she is supposedly preparing a countersuit against the FSCA. It is unknown whether MTI will actually counterclaim against the FSCA considering that the closest known resemblance the company has to any in-house legal expertise is Cheri's former husband Leonard Gray who is a non-practicing attorney and has sent multiple legal threats via WhatsApp to individuals that question whether MTI is legal.
Its important to note that this is not the first time Cheri has made empty legal threats. After the MTI hack occurred, Cheri claimed a police case was opened and that a criminal investigation was underway. Shortly after this she claimed that that the responsible parties were apprehended. Despite numerous requests for information on case numbers for this alleged investigation, no further info has been released by herself or MTI. It is believed that this was simply made up to create the illusion that MTI has the situation under control.
---
Reaction to Arrest of Johann Steynberg
Following the arrest of Johann Steynberg in Brazil on the 7th January 2022, Cheri updated her Facebook status to claim that she is "thrilled" and that "the truth will always win.
In the comments section, Cheri appears to incriminate herself further by stating that Johann "stole" 400 BTC from herself and Clynton, funds which they obtained from running the ponzi scheme.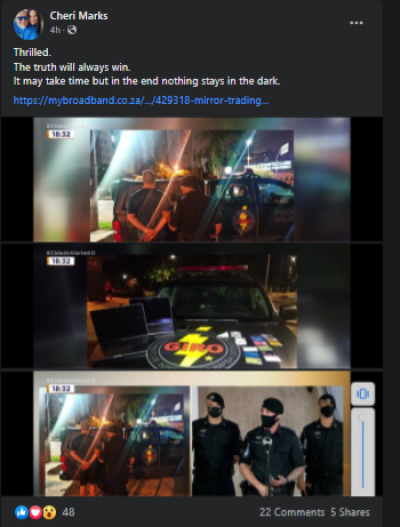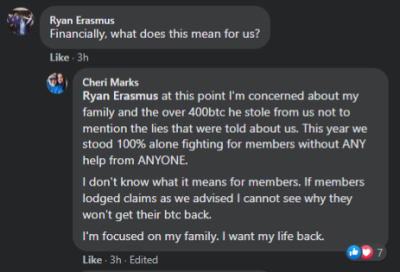 Ponzi training with Cheri
Photo Gallery
Cheri posing with her new, R1.8m Jeep Trackhawk, 7 May 2020: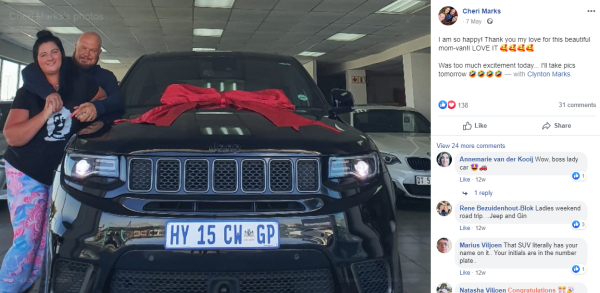 Cheri seems to own multiple cars, here she took a photo of her Jeep on 18 Oct 2020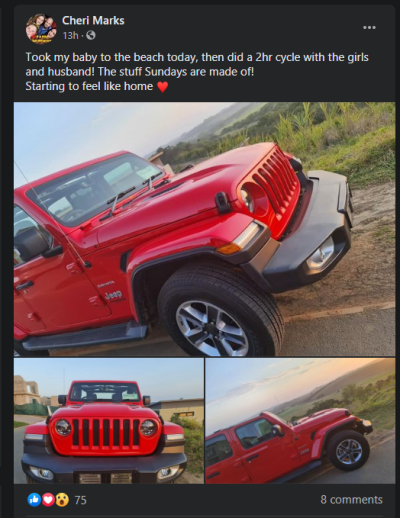 Pictured below is the R10m+ mansion Cheri moved into in the beginning of September 2020. This home is located in Monteith Estate, Durban North, KwaZulu-Natal, South Africa.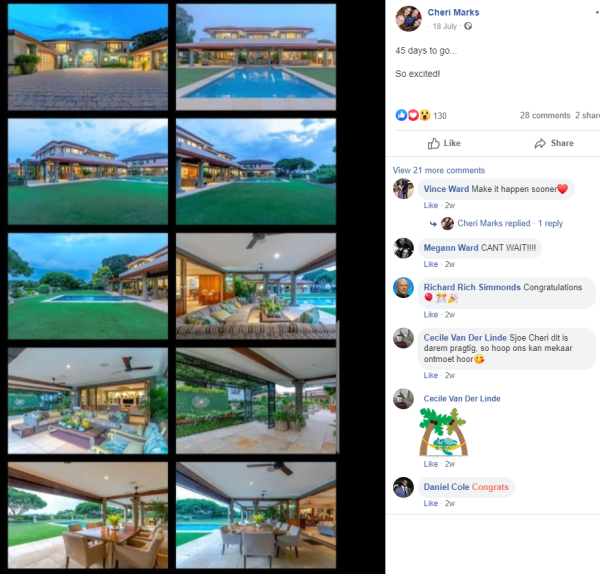 Facebook comment from MTI's Head of Legal, Leonard Gray, welcoming Cheri back in her role as captain.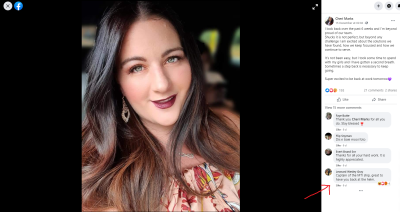 Cheri posting a picture on social media, presumably where she bought her mother & grandmother new homes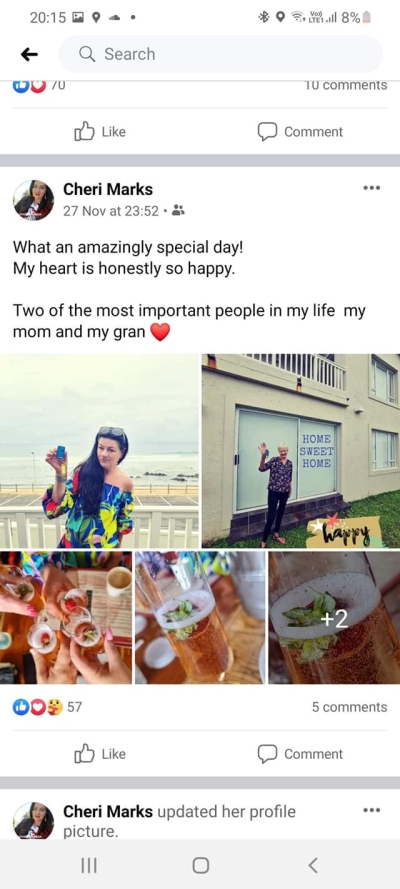 ---
MTI Founders pool
According to the recent MTI hack, Cheri is part of the MTI founders pool. She has multiple accounts, although its against MTI policy to have more than 1 account. Up to date her total scheme income is at least R7 580 377.74
---
Resources & Links
cheriward.txt · Last modified: 2022/01/07 10:54 by anonymous_possum
---